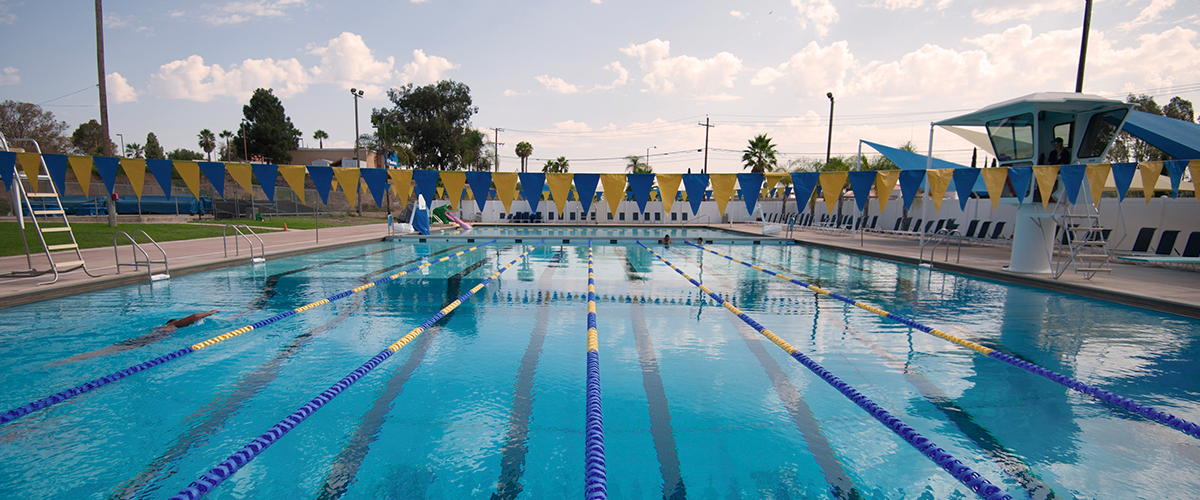 Lap Swim
Mon, Thu: 10am-6pm
Tue, Wed, Fri: 6am-2pm
Fees
Guest: $4
Private Lesson Fees
Authorized Patrons: $20 for one 30-Minute Lesson
Call (760) 725-4344 to schedule.
Fees
Parent & Child Lessons (offered June-July) – $28
Pendleton Youth Swim Club
Beginning Mon, Sep 18
Mon & Thu, 4:15pm-5:15pm
Military Dependent: $45/month
Non-Military Civilian: $55/month (must have a military sponsor)
Qualification
Children ages 7+ must have knowledge of how to swim butterfly, backstroke, breaststroke, and freestyle and swim 100m continuous freestyle with rhythmic breathing in under 2 minutes and 30 seconds.
Tryouts (VIEW FLIER)
Mon, Sep 11 4:15pm-5:15pm
Thu, Sep 14 4:15pm-5:15pm
* Additional tryouts can be scheduled, please call (760) 725-4344 to schedule.
---
2023 100-Mile Swim Club
Receive a FREE finisher T-shirt (1 per year) with completion of 100 miles at 13 Area Pool during the 2023 calendar year! Log miles/laps with a staff member at the check-in window. This program is ongoing throughout the 2023 calendar year and open to authorized patrons. Ask a staff member today for more details.
3rd-Year Finishers
3rd-year finishers will receive a 100-Mile Swim Club towel.
2021 Participants
In order to participate in 2023 please re-register. All mileage from 2022 will not count toward 2021.
Contact Information
13 Area Pool
BLDG 1315
Follow 13 Area Pool: