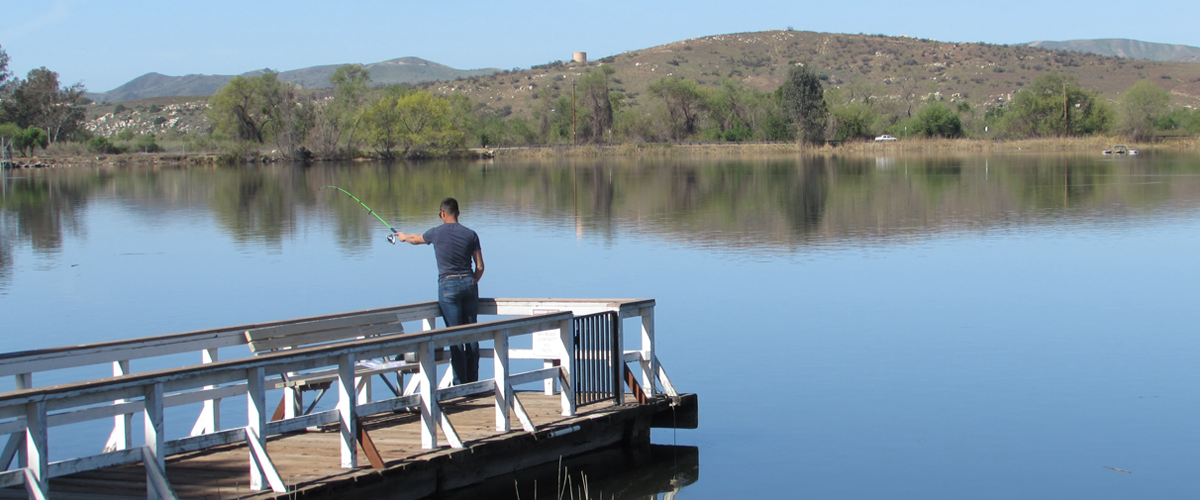 Lake O'Neill Recreational Park offers fishing, hiking, rowboats, horseshoe pits, RV and tent camping, cabanas, playgrounds (includes ADA playground), basketball, softball, ADA miniature golf, and a peninsula for group activities. For a complete list of prices and services, see the current facility price list.
Fishing
Permitted year-round. The lake is stocked and bait is sold at the Lake O'Neill Recreation Office, Bldg 26080.
California State License and Camp Pendleton Base permit is required, both available at Pacific Plaza Exchange.
Recreation Area
A variety of recreational equipment is available for rent: row & paddle boats, volleyball, basketball, and baseball equipment, horseshoes, and more!
Boats are available for rent Apr thru Oct, Fri-Sun.
See the price tab for up-to-date pricing.
Peninsula
For large group activities including promotions, retirements, and wedding receptions. Picnic cabanas, BBQ grills, a stage, electrical power, and athletic facilities are available.
Campground
Campsites offer water, electricity, sewer hookups, and tent camping. ADA-friendly sites are available.
Additional Info
Reservations are taken in 3-month increments including the current month.
1st Week (Days 1-7) – Active Duty Military
2nd Week (Days 8-14) – Reservists & Retired Military
3rd Week (Days 15+) – All Eligible Patrons (DOD, Eligible Veterans & Group Bookings)
Patrons of all ages may go into the miniature golf area. However, any patron under the age of 12 is recommended to have parental supervision.
Patrons aged 4 and older will be charged at the same rate as any other patron.
Climbing on rocks and plants is not permitted.
Driving golf balls or any other dangerous behavior will result in removal from the golf course, without a refund of fees.
Active duty military unit family days have priority over non-military unit functions (i.e. key wives, boy scouts, YMCA, church groups, etc.).
All military units are required to complete a Military Cabana Request form.
Office phone is available for emergency use only.
There are Base Emergency telephones located in the park:
near Cabana 2682
in BLDG 26106 in the peninsula area
in the campground on the roadway above campsite S1N
Once you pick up the emergency phone wait on the line, it will connect you to 911.
* Due to a decrease in demand during the winter season, Lake O'Neill does not abide by the standard recreational lodging winter holiday blocks. *
| Holiday | Observed | Check-In | Check-Out |
| --- | --- | --- | --- |
| Memorial Day – Monday, May 29 | Monday, May 29 | Friday, May 26 | Tuesday, May 30 |
| Independence Day – Tuesday, July 4 | Tuesday, July 4 | Saturday, July 1 | Wednesday, July 5 |
| Labor Day – Monday, September 4 | Monday, September 4 | Friday, September 1 | Tuesday, September 5 |
Pricing
Campground
Includes
Rate


(per night)

Stay & Play


(per night)

Water, Electric & Sewage
$59
$69
Water & Electric
$53
$63
Dry Camping / RV or Tent
$42*
$52
Pet fee
$3/per pet per night
* Sponsored Guest Rate: An additional $15 per night is added to each campsite reserved after the first reservation.
Stay & Play Package
+$10 per day during your stay
Family of 4 or max 4 people, includes the following:
Miniature golf and sports equipment
1-hour kayak or pedal boat rental
2-hour fishing pole rental
Boats (available Apr-Sept: Fri-Sun)
per day and with the availability of equipment and golf course
Reservation Lead Time
Reservations are taken in 3-month increments including the current month.
1st Week (Days 1-7) – Active Duty Military
2nd Week (Days 8-14) – Reservists & Retired Military
3rd Week (Days 15+) – All Eligible Patrons (DOD, Eligible Veterans & Group Bookings)
Please Note
Due to increasing electrical issues with our RV pedestals, we recommend the use of surge suppressors to protect your equipment. For more information please contact Guest Services
| | |
| --- | --- |
| Miniature Golf 18 holes; 1-3 years FREE | $6 per person |
| Volleyballs, basketballs, soccer balls, footballs, rubber balls, softballs, horseshoes, ladder balls | $5 per 2 hours |
| Pontoon Boat | $30 per hour |
| Deluxe Pontoon Boat | $40 per hour |
| Bass Boat | $30 per hour |
| Motor Boat | $25 per hour |
| Row Boat | $15 per hour |
| Pedal Boat 4-seat | $15 per hour |
| Single Kayak | $15 per hour |
| Double Kayak | $20 per hour |
| Double Kayak Family 2 adults, 1 small youth | $20 per hour |
| Fishing Pole | $5 per hour |
Pricing
Cabana
$30
Peninsula
$350
Recreation Office
Daily (Apr-Sep)
8am-5pm
Daily (Oct-Mar)
8am-4pm
Campground Security
Daily
4pm-10pm