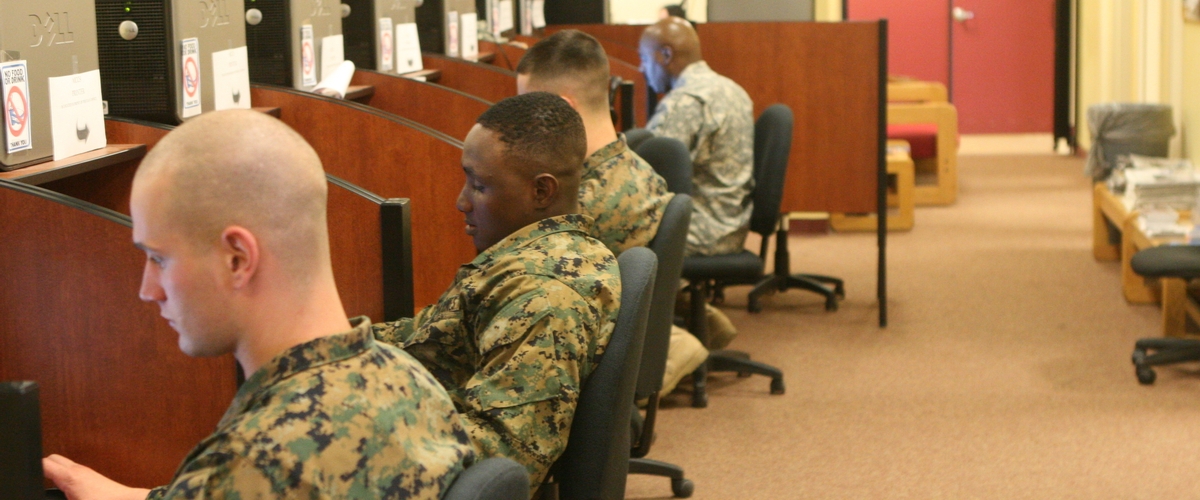 ---
Are you a Marine who has dreams of pursuing your education at a selective school? The Leadership Scholar Program was created to provide application assistance to qualified Marines as they transition from active duty to pursue their education goals at the nation's top four year, not-for-profit colleges and universities.
What are the steps you need to take while using LSP to help you get into a top school?
Apply, submit documents, follow advice, keep in contact, don't settle, and get into a great school! That's really all that is involved.
Apply to the Leadership Scholar Program as soon as possible so that we can create the right kind of academic plan.
Submit documents — submit every transcript, any award, letters of recommendation and other similar documents.
Follow advice — if we tell a Marine to take class and get an "A," we really mean it.
Keep in Contact — call and email your LSP contact regularly. There is never a time when a Marine is bothering an LSP point-of-contact, ever.
Don't settle — every top school is on the table!
Get into a great school — we will work to find the Marine the right fit.
Don't just take our advice. Here are five examples of Marines who have worked these steps and found success!
Sgt Jacky Fang listened to our advice, kept in contact, and got into six schools including Brown, Williams, and Columbia. Sgt Fang, who is a first generation American, diligently studied for the SAT through Khan Academy (which is free!) and received a letter of recommendation from LtGen Brilakis, then the Deputy Commandant for Manpower and Reserve Affairs.
Sgt Bryan Robertson worked closely with LSP staff for almost a year. He took the time to craft an essay for admission based on life experience and overcoming adversity.. Sgt Robertson's persistence and hard work paid off and he is now going to attend Yale University.
Cpl Taylor Baker followed LSP guidance to research schools and found the best fit for him personally and professionally. Ultimately, he wanted to go to Colorado State University, and he is. Upon admission, he proactively found ways to fit into the campus community and make the school his home.
Cpl Christopher Wilson got into seven top colleges including both Princeton and Harvard. Princeton offered him a financial aid package covering all of his undergraduate schooling, so he is planning to use his GI Bill to pay for his Master's degree.
Sgt Christopher Vasquez is going to attend the elite Pomona College with a full scholarship and plans to use his GI Bill to pay for medical school. Sgt Vasquez began his journey with LSP with one plan, and once he began working with LSP, he realized he had other amazing options for schools, including Pomona, which will better help him meet his goal of attending medical school, will cost him less financially, and will help him provide a better life to his family.
Ready to get started? Visit Leadership Scholar Program service page and complete the application today.
Still searching for more in-depth assistance with the Leadership Scholar Program? Contact your installation's Voluntary Education staff. You can also follow Marine For Life on LinkedIn and like Marine For Life on Facebook!