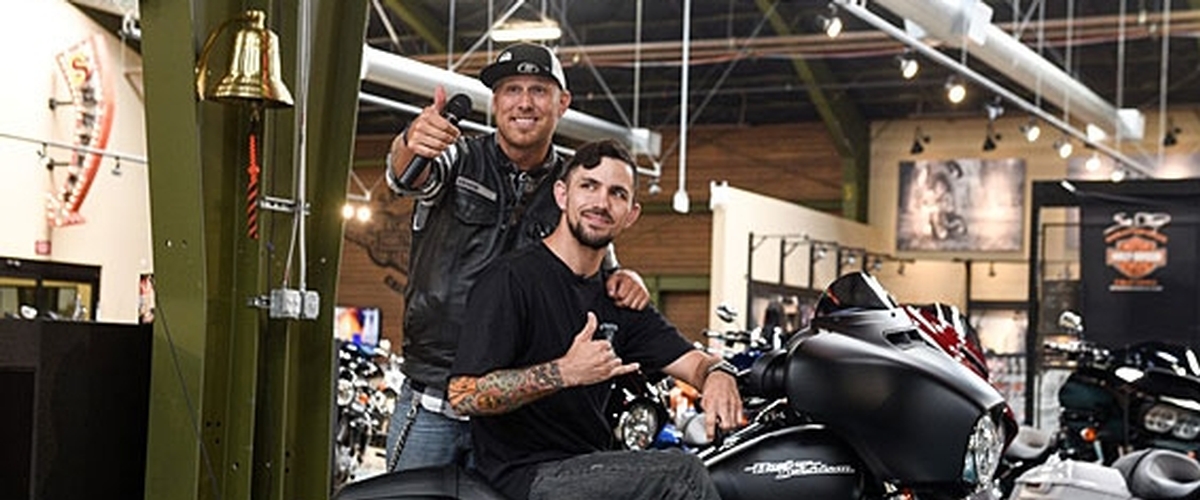 ---
Three years ago, a man and his dog embarked on an important mission: visit every Harley-Davidson dealership in the lower 48 states in order to raise money and awareness for the military and their families. Adam Sandoval and his chihuahua, Scooter, succeeded in their goal, raising over $300,000 for veterans suffering from PTSD and other war-related injuries.
This year, Sandoval is honored to partner with Harley-Davidson to bring relief to more riders in a project called MISSION: THANK YOU. Sandoval is hitting the road for a cross-country ride to honor those who have served and to give away bikes to eight lucky vets. Based on submitted nominations, Sandoval will make stops along his journey to give away the new motorcycles.
The first of these honorees is USMC Veteran and Purple Heart recipient Shane Krutchten. Krutchten, a former infantry marksman in the 3rd Battalion, 5th Marines, is an alumnus of the Wounded Warrior Project and suffers from PTSD. Krutchten says that riding is one of the methods he uses to cope.
Anyone can nominate an active military member or veteran to MISSION: THANK YOU by submitting their story of sacrifice, strength and courage to http://missionthankyou.com. Sandoval will be part of the group reviewing and selecting deserving patriots for the award. Follow the mission on adamsandovalrides.com or on Facebook or Twitter.
If you or someone you know is suffering from PTSD, the following resources are available:
Wounded Warrior Regiment
DSTRESS Line
Community Counseling
Military & Family Life Counselors