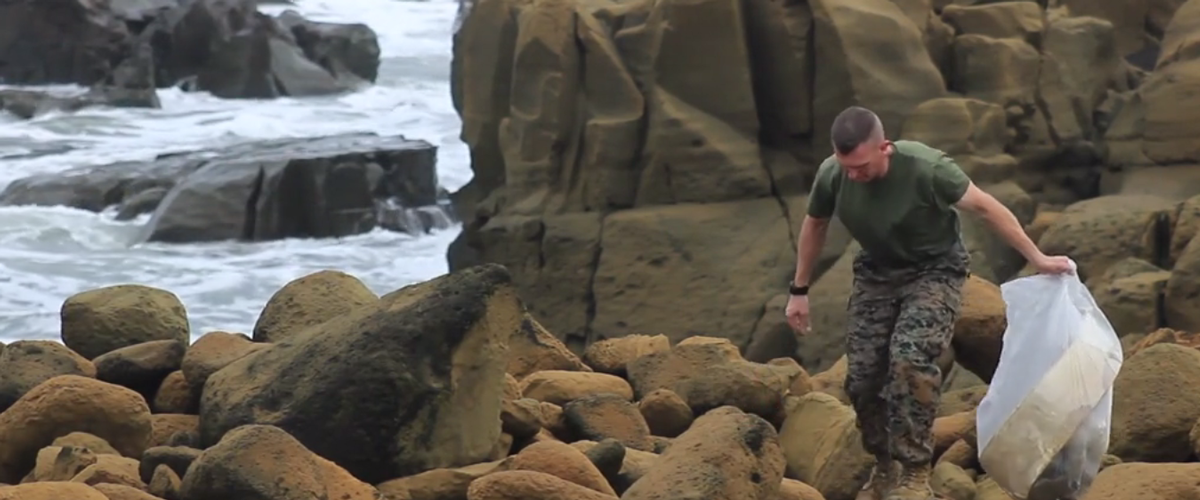 ---
Service members at Marine Corps Air Station Iwakuni had the unique opportunity to clean up their community by picking up waste on the beaches of Iwo Jima.
Iwo Jima is home to one of the most famous battles of the Marine Corps. The island is thick with history as well as debris that comes in with the tide. Human-created waste that has deliberately or accidentally been released into the Pacific Ocean tends to accumulate on the coastline of the island. In an effort to address the situation, the Single Marine Program (SMP) arranged a beach cleanup as a way for Marines to give back to the community in which they are currently serving.
While the Marines cleared the beaches they reflected on the saga of the island. More than 6,800 service members were killed on Iwo Jima. The WWII battle lasted from Feb. 19 through March 26, 1945, when the United States Marine Corps eventually captured Iwo Jima from the Japanese Imperial Army.
The opportunity to clean-up Iwo Jima's beaches was coordinated by SgtMaj Perez Laureano, SgtMaj Garza Christopher and SMP Manager Brian Wilson. They were assisted by 13 Marine Corps volunteers. "Volunteers were honored to have been able to be part of a historic clean-up," said SMP & Recreation Centers Program Manager Michael Brown. "This marked the first SMP clean-up at Iwo Jima. The SMP motto is 'Make a Difference! Get Involved! Every person counts!' Community service and volunteering is a great way to invest in a community."
To learn more about SMP, or to participate in Days of Service, contact your local SMP Coordinator.