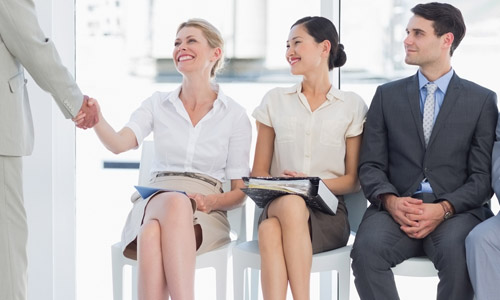 ---
We've all been there. You've perfected your resume and cover letter, sent out countless applications and finally landed an interview. You are face to face with the hiring manager when you are asked the dreaded question "So tell me about yourself." What do you say? You wonder if you should disclose that you are a military spouse. It's a big part of who you are, but will revealing this information help or hinder your employment prospects?
When it comes to being a Marine spouse, moving every few years is just one of many obstacles you face. Finding a new job each time you relocate is another challenge. Switching jobs every two or three years is becoming increasingly more common, so you shouldn't let that next Permanent Change of Station (PCS) stop you from finding your dream job. If a company asks about why you've switched jobs often you should offer an explanation. If they don't ask there's no reason for you to disclose your military spouse status.
Do your research ahead of time. Many organization have military friendly hiring initiatives and over 400 organizations are part of the Military Spouse Employment Partnership (MSEP) that pledges to recruit, hire, promote and retain military spouses. Knowing the company and their mission statement will help you decide how much personal information you should reveal. (Short answer: yes, if the organization actively promotes military spouse hiring initiatives, especially if you found the job announcement through a military spouse forum such as the MSEP Job Search tool.)
The skills you've learned as a military spouse are also skills that are highly sought after in the workplace. You are flexible, adaptable, independent, and loyal, all traits that would make you an asset to any organization. Instead of feeling like you need to 'fess up' to a potential employer about your military spouse status, focus on marketing the valuable qualities that life with the Marine Corps has taught you.
Most companies look for a return in their investment for hiring and training you for a position that ideally results in productivity over an extended period of time. For larger companies, you could suggest transferring to another office should you need to relocate or request a telework arrangement. If those are not options, there are other employment opportunities with companies that would love to have a Marine Corps spouse on their team.
To find jobs at your local installation or with other government agencies that offer Spouse Preference, visit
USAJOBS
or the
Careers section on this website
. For more information on interview techniques and companies that are military spouse friendly, visit the Family Member Employment Assistance page and talk to a staff member.