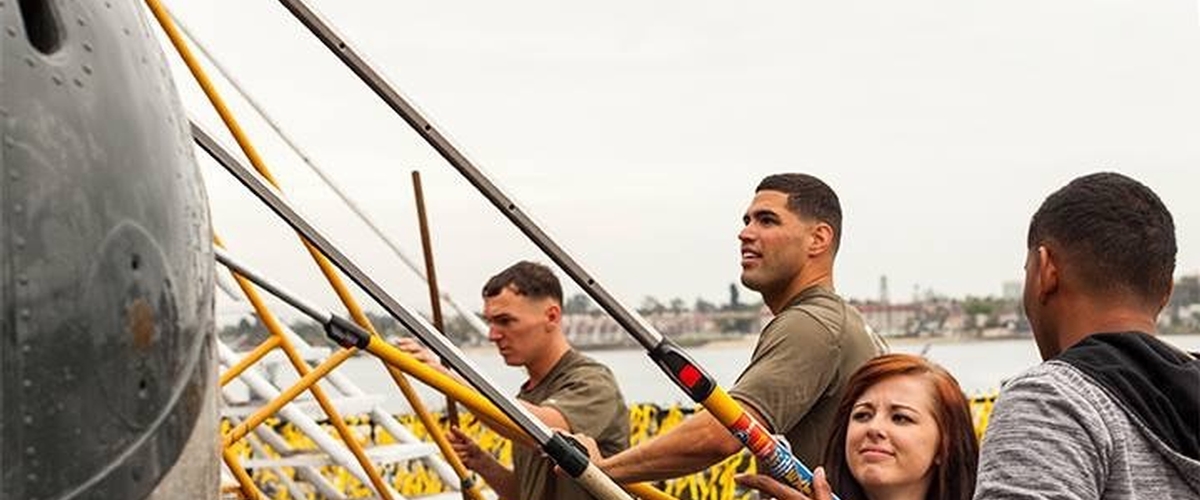 ---
During the Single Marine Program (SMP) Days of Service this week, Marine Corps Air Station (MCAS) Miramar is volunteering with the USS Midway Museum to help restore some high-traffic areas that need a little extra attention. The museum, a premiere San Diego site and tourist attraction, is the historical USS Midway aircraft carrier housing actual naval aircraft in the city's downtown area.
The majority of Midway Museum tour docents, or guides, are volunteers who are not regularly or physically able to attend to certain areas in need of maintenance in the museum, creating a rewarding opportunity for SMP volunteers to assist. Their work greatly benefits the upkeep and appearance of the historic ship, while facilitating teamwork and leadership development as teams figure out the best approach to each task. SMP volunteers will also have the opportunity to tour and learn more about the USS Midway and view the "Battle of Midway" short film onboard for a brief history of the vessel.
Miramar's SMP began volunteering with the USS Midway Museum when a traveling Vietnam Memorial wall – The Wall That Heals – was slated to come to MCAS Miramar, as well as the USS Midway Museum, during its national tour in 2015. MCAS Miramar's Sergeant Major Michael Walton connected the SMP to the traveling exhibit team, and an inaugural event marking the very first MCAS SMP Day of Service held in April 2015 brought 59 Marines together to volunteer at the museum's exhibit of The Wall That Heals. As part of the event, SMP Marine volunteers tied yellow remembrance ribbons around the ship for the Vietnam Memorial wall. They also cleaned the ship's engine room and the birds (planes) displayed onboard.
The SMP Miramar takes pride in rallying around SMP Days of Service each year and helping Marines lead in the surrounding San Diego communities. Get involved with SMP Days of Service on your installation by contacting your SMP Coordinator.