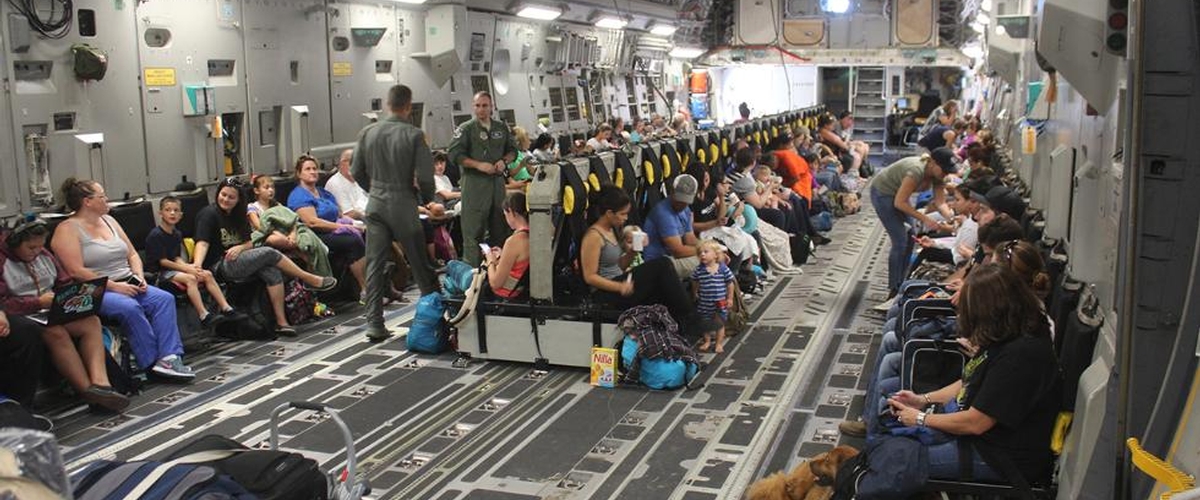 ---
Emergencies can happen at any time. Hurricane Matthew, which made landfall in the United States on Friday morning on Florida's east coast, is just one reason to take action to prepare, now and throughout the year, for the types of emergencies that can affect us where we live and work. In the Marine Corps preparedness is essential to ensure the readiness of our deployable forces.
Last weekend about 700 family members and 65 pets were evacuated from Naval Station Guantanamo in Cuba to Naval Air Station Pensacola, Florida, using four C-17s and two C-130s. According to Pentagon Press Secretary Peter Cook, "these family members will stay at Pensacola until it's safe to return," The remaining military and civilian population will shelter in place and be prepared to support recovery efforts when it's safe to do so after the storm passes.
Approximately 6,000 recruits have been safely evacuated out of Marine Corps Recruit Depot/Eastern Recruiting Region, Parris Island, S.C. to Marine Corps Logistics Base Albany.
Whether you are currently in the path of Hurricane Matthew or simply want to be ready for future weather related events, here are eight steps to help you prepare:
1. Listen to the radio or TV for more information and further instructions.
2. Secure your home by closing the storm shutters and bringing outdoor furniture inside.
3. Ensure you have a supply of water for household purposes.
4. Turn your refrigerator to the coldest setting and keep the door closed.
5. Turn off utilities if told to do so.
6. If you are told to evacuate:
NEVER ignore an evacuation order.
Follow the guidelines given regarding times and routes.
Take only essential items and your emergency kit
Turn off natural gas, electricity and water if you have not already done so.
Disconnect all appliances.
Make sure your car's gas tank is full.
Do not walk in moving water.
Do not drive in high water (As little as 6 inches can cause a stall or loss of control).
Follow the designated evacuation plan and expect a high volume of traffic.
7. If you are NOT told to evacuate:
Stay tuned to emergency stations on TV or radio.
Listen for further instructions.
Stay away from windows and doors; seek shelter in a bathroom or basement.
Prepare to evacuate to a shelter or neighbor's home if your home is damaged.
Do not go outside until instructed to do so even if the storm is over and it seems
calm. When the eye of the hurricane passes, it is calm for a while but does not remain that way.
8. Once you are in a safe place, stay close with your unit if you are a Marine, civilian contractor,
or government employee.
If you live or work in the path of Hurricane Matthew, stay tuned to local media outlets for important announcements and information. If you are interested in learning more about emergency preparedness, contact your local Marine Corps Family Team Building Office to enroll in an Emergency Preparedness course.