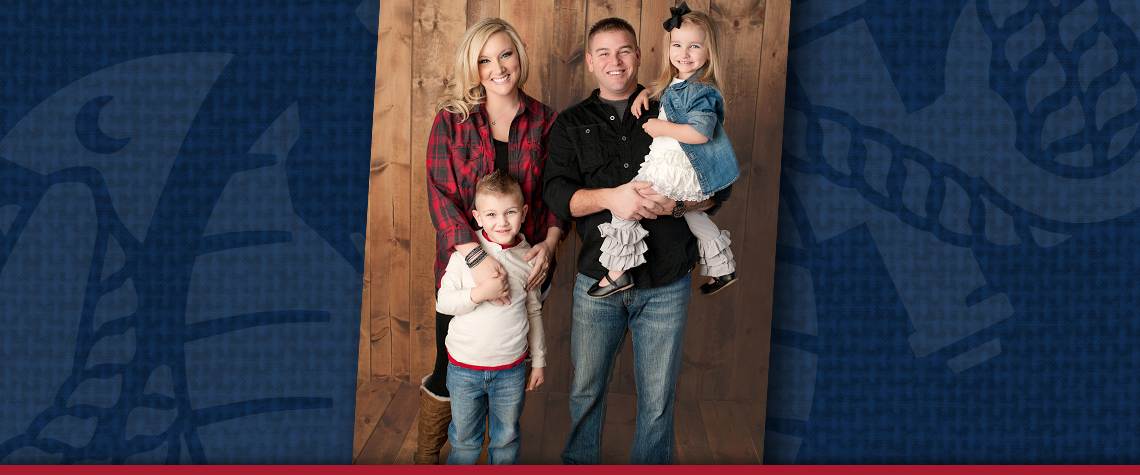 ---
Andrea Fuller stands next to her husband SSgt. Jacob Fuller with their arms wrapped around their son, Cash, and their daughter Aniston during a family portrait.
---
Marines who have a family member with special medical or educational needs face very real challenges in their effort to balance continuity of care for their family member, while pursuing professional requirements and career opportunities for themselves. The Exceptional Family Member Program (EFMP) is designed to support Marines in this effort, by helping to coordinate Permanent Change of Station (PCS) assignments to locations that are both career enhancing for the Marine and supportive of the medical and educational needs of family members.
Unfortunately, some Marines are unaware of the benefits of EFMP and believe enrollment in the program will negatively impact their career opportunities. A 2008 EFMP Functionality Assessment showed 70 percent of Marines had a perceived negative stigma associated with EFMP enrollment, believing enrollment would negatively impact their career. In 2012, following complete transformation of the program, Marines were asked again about their perceptions of the program. 30 percent of Marines continued to believe that EFMP enrollment would hurt their career opportunities.
SSgt. Jacob Fuller and his wife Andrea entertained these thoughts with their son, Cash. Prior to enrollment in Exceptional Family Member Program (EFMP), they were unaware the program existed until talk of their son having developmental delays came about during their stay at Marine Corps Base Camp Pendleton, California. Cash was diagnosed with autism. "Upon learning of it, we just assumed EFMP was a label given to those with health issues," said Andrea. "Now, we have the options for Cash that we need, as well as adequate school districts because of EFMP."
When EFMP eliminated the use of categories, with their pre-determined geographic restrictions, all EFMP-enrolled Marines became eligible for worldwide assignment, allowing them to be eligible for the same assignments as their non-enrolled peers. If a Marine's assignment was an unfit match for the family, monitors would select an alternate assignment, which still met career progression requirements, but was a better fit for the their family member's needs. "When Jacob was sent to Recruiting Duty, we initially were supposed to go to Ft. Smith Arkansas," said Andrea. "They did not have adequate therapy centers and doctors for Cash, so we ended up in Oklahoma City, Oklahoma."
EFMP helped the Fuller's find adequate care for their son Cash. "EFMP is the very reason Cash is able to continue with the therapies he needs and thrive in life," said Andrea. "Moving to Oklahoma from California was very hard. But, EFMP continues to keep us up to date to help us make the best decisions. The programs available through enrollment of EFMP are so beneficial not only to Cash, but the whole family. The EFMP Family Caseworkers are there to literally help you through everything."
Since transformation of the program, EFMP enrollment has increased 90 percent. In addition to a change in the assignment process, the transformation of the program included more efficient enrollment procedures and enhanced family support services across the Marine Corps. "Our role is to help Marine families be successful. We do that by ensuring family members' needs are considered in the assignment process, so that Marines can focus on the mission. Equally important is the variety of family support services we offer. We offer services which connect, inform, educate, assist and empower families as they navigate sometimes complex systems of care, said Jennifer Stewart, Headquarters Marine Corps EFMP Manager. "We know that despite these positive changes, some Marines still believe that enrolling in EFMP will negatively impact their career, so we pursued an independent study to analyze the validity of this belief," said Stewart.
In 2016, the Marine Corps Operational Analysis Division conducted a study to learn whether Marines with family members enrolled in the EFMP are disadvantaged or limited in their careers. The study looked at career length, highest grade achieved, and time to achieve grade to determine if there was any truth to the stigma. Using the most rigorous analysis available, the study determined there was little evidence of any negative impact of EFMP enrollment on Marine career progression and promotion. The career length of EFMP enrollees is, on average, slightly longer than non-EFMP Marines, enrollees achieve a slightly higher grade and the majority of enrollees achieve that high grade in the same or shorter amount of time than their non-enrolled peers. SSgt Fuller's personal experience is consistent with the findings of the study. "Jacob has only been on this assignment for about a year and a half," said Andrea. "He was promoted to Staff Sergeant and is now on track to Gunnery Sergeant at an expected pace."
While enrollment in EFMP is a Department of Defense requirement, Marines and families can decide how much involvement they want beyond assignment coordination. The Marine Corps has 16 EFMP family support offices throughout the world, which offer a variety of services tailored to their specific location and the population they serve. Enrolled Marines and families are offered case management services, special education support, caregiver support groups, education and training programs, forums, inclusive recreational events, and social activities designed to facilitate the development of natural support networks. "The program has so much to offer," said Stewart. "Assignment coordination was the fundamental purpose for the program, but we do so much more."
If you have a family member with medical or educational needs, please contact your local EFMP office. To learn more about the EFMP and the variety of services they provide, click here. To read the complete report, please visit the Manpower and Reserve Affairs website at https://go.usa.gov/xXRky.