Using an integrated community health approach, the Community Counseling Program (CCP) equips Marines and families with the skills to address life's challenges before there is significant impact to performance in their duties and relationships. The CCP assists Marines and families in accomplishing their personal goals through short-term solution focused counseling, skill enhancement, education and referrals to other helping resources.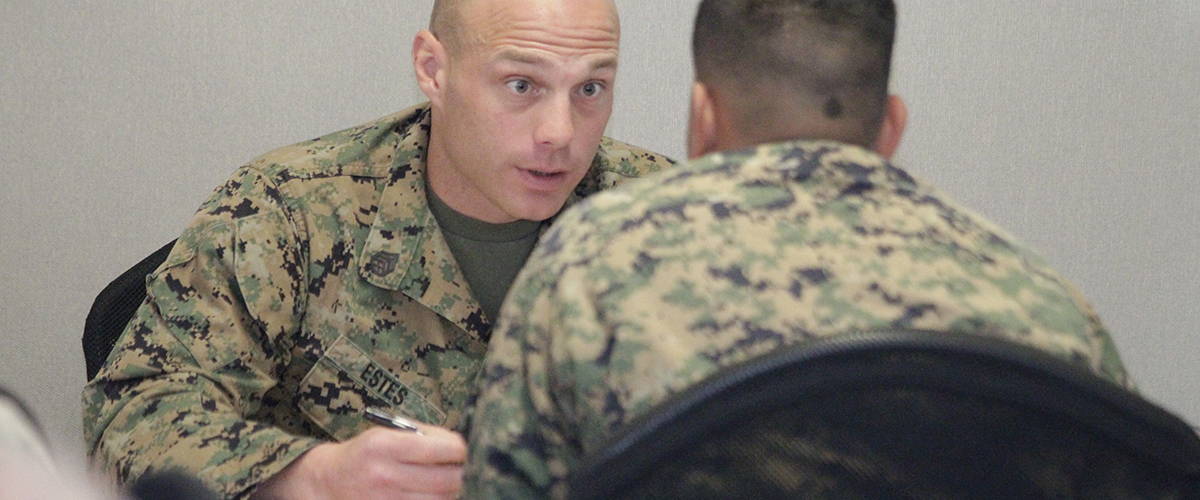 What We Offer
Free counseling to service members and their family members.
Services Include:
Stress and Adjustment
Couples Counseling
Depression and Anxiety
Grief and Loss
Occupational Problems
Parent-Child Relationships
Family Counseling
Our counselors will partner with you to listen to your concerns and assess your needs. Together, you will develop goals for your counseling sessions. They will also link you to other M&FP Partner Programs so that you are supported through the entire process. Our team are subject matter experts in the following areas and can offer counseling designed to meet your specific needs.
Parent-Child Relationships
Partner and Sibling Issues
Occupational Problems
Anger and Anxiety Issues
Stress and Adjustment Issues
Grief and Loss
Benefits of Counseling
Increased self-confidence, better family communication, improved well-being, and overall mission readiness.
Counselor Qualifications
All counselors are experienced in working with service members and military families. They hold Masters or Doctoral degrees and are licensed and credentialed to provide non-medical counseling within the DoD.
Workshops/Classes
Prevention and Education staff are available to assist commands and the community with training by providing subject briefs in the following areas: family advocacy overview, domestic abuse prevention & awareness, child abuse prevention & awareness, stress management, and anger management.
Prevention & Education
BLDG 1122 – Mainside
(760) 725-6636
24/7 Domestic Violence Helpline: (760) 500-2633
Financial Management offers trained and certified financial management educators who provide support to Active Duty Service Members and their families,, Retirees, DoD and NAF Civilian Personnel through individual financial counseling sessions and workshops. By developing strong financial management skills, your money can go further to provide a better quality of life. Our team is here to help you achieve financial success through individual counseling and education.
Personal Financial Management Program
BLDG 13150
– Mainside (Marine & Family Programs HQ)
Walk-in Hours
Community Counseling Center and Family Advocacy Program
BLDG 520512
Open evenings by appointment.