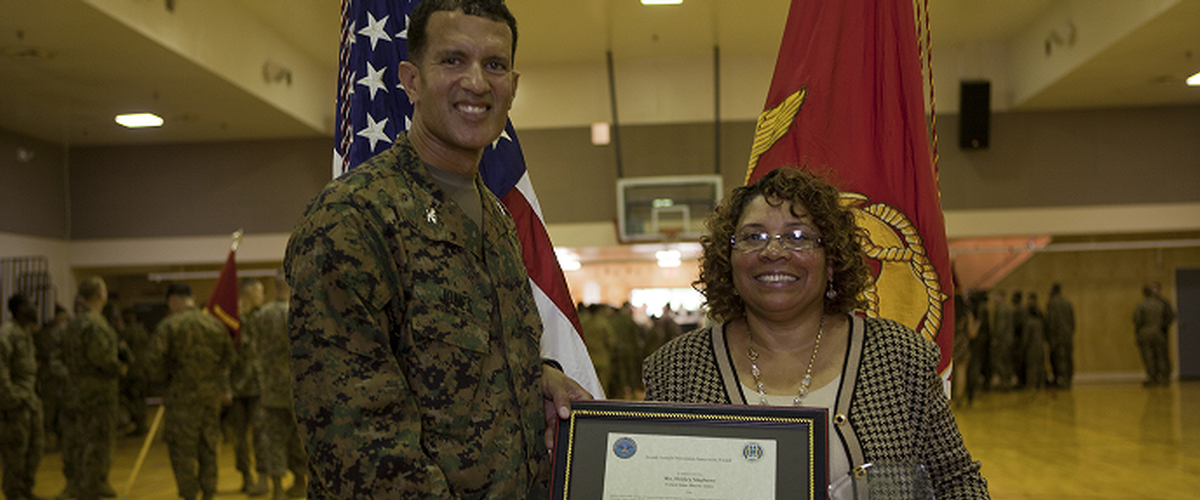 ---
What do a dance contest and military sexual assault have in common? Just ask Ms. Shirley D. Stephens, Sexual Assault Response Coordinator (SARC) for Marine Corps Combat Service Support Schools (MCCSSS)—recipient of the 2015 DOD Sexual Assault Prevention Innovation Award for the Marine Corps.
Ms. Stephens was recognized for her innovative approach to sexual assault prevention by organizing and executing several events for Marines, including the MCCSSS Dance Battle. This unique event helped Marines understand that, even though a sexual assault may take place in another location, those involved in the incident may make initial contact at a club-like setting where dancing takes place.
The MCCSSS Dance Battle highlighted the 2015 Sexual Assault Awareness and Prevention Month theme ("Eliminate Sexual Assault: Know Your Part. Do Your Part.") in an engaging way that resonated with junior Marines. As a result of her innovative approach, Ms. Stephens was able to increase morale, camaraderie, and, most importantly, awareness of sexual assault.
The Department of Defense (DOD) Sexual Assault Prevention and Response (SAPR) Office started the annual Sexual Assault Prevention Innovation Award in June 2014. The award aims to recognize a group or an individual from each military service who contributed or developed an innovative idea, concept, methodology, or approach to positively impact the SAPR program on an installation, in a deployed environment, or in a reserve component.
Col David E. Jones, Commanding Officer, MCCSSS, presented Ms. Stephens with the award on November 10, 2015, aboard Camp Johnson, NC. Several staff members from Headquarters Marine Corps (HQMC) Sexual Assault Prevention and Response (SAPR) Branch in Quantico attended the award ceremony to show support for Ms. Stephens and her contributions to the Marine Corps SAPR program.
Would you like to join Ms. Stephens in raising awareness about sexual assault prevention?
Click here
to learn more about the Sexual Assault Prevention and Response program.