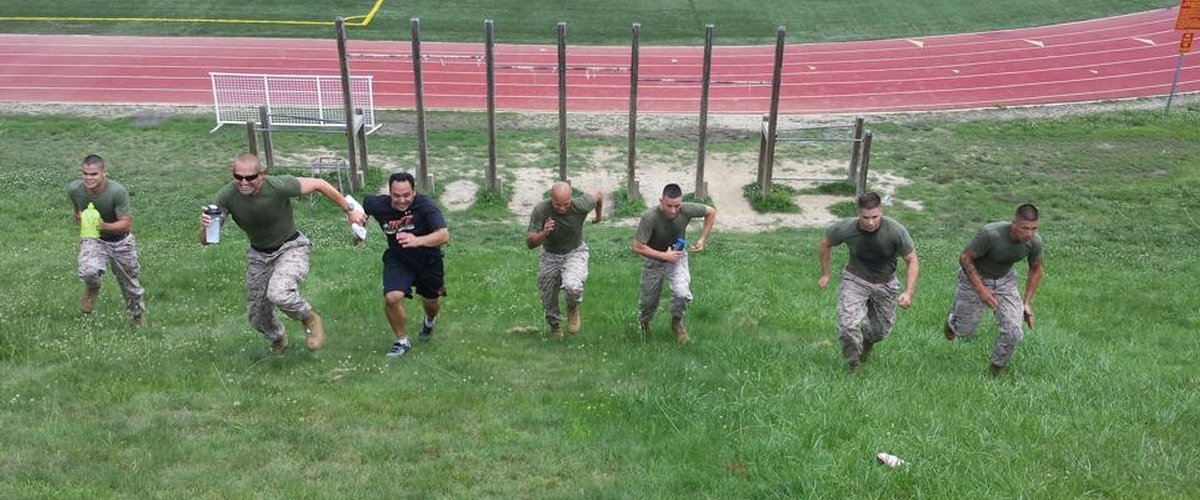 ---
Do you remember the first time you wanted to succeed at something? How about the last time you were really motivated to finish a task?
This week 34 of the top Marine Corps athletes will be motivated to take home the title of Ultimate HITT Athlete. The Inaugural High Intensity Tactical Training (HITT) Athlete Championship will take place from Sept. 15-17, 2015 at the Marine Corps Air Ground Combat Center, 29 Palms, California. One male and one female Marine will be crowned the 2015 "Ultimate HITT Athlete".
Our top 34 athletes took a break from training to share their secrets of success. Find their winning strategies below.
Cpl Jonathan Fuller, Marine Corps Base Camp Pendleton

"Why you do something is perhaps the most important aspect to starting something and following it through. Write down your 'why' and remind yourself of it each day."

Maj Steven Ray Thompson, Marine Corps Air Station New River

"Don't eat junk food and get eight hours of sleep. When you go to the gym crank up AC/DC's Thunderstruck and train until it feels like your heart is going to pop or your spine is about to snap. There is no substitute for hard work and discipline."

Pfc Kimaney Hylton, Marine Corps Air Station Miramar

"My secret to success is being my own competition, learning from the mistakes I have made, not giving myself excuses, because pain doesn't last forever. We can plan our future but that's not always the direction it leads. It has always been 'I want to be an accountant, lawyer, dancer, artist....but, now it's I will be... A Sergeant Major in the Marines!'"

SSgt Sarah R. Hickory, Marine Corps Base Quantico

"I believe there is not necessarily a secret to fitness success, but rather a drive to succeed in doing what you love. Each day I follow an organized workout that allows me to consistently work toward reaching my fitness goals. While it is easy to train with movements I am naturally good at, I am very aware of my personal weaknesses and I focus even more on training those areas. The human body is amazing, and you can push it to new levels of speed, agility, endurance, flexibility, and strength using self-discipline and staying true to improvement."

Agent Lauren M. Schoener, Marine Corps Air Station Yuma

"My secret to success is to be tenacious, consistent, and always try anything twice."

Sgt Justin P. Mears, Marine Corps Logistics Base Barstow

"I believe the secret to my success is a combination of will power and competitive spirit that I have honed throughout my lifetime growing up as an athlete. Even though I have never been the biggest or strongest, I believe my will power has always carried me beyond limits that others could not reach."

Cpt Jacob D. Pryor, Marine Corps Recruit Depot Parris Island

"Put God first, keep everything in the proper perspective, and always challenge your limits."

LCpl Johnny Denton, Marine Corps Base Okinawa

"Everybody wants this breakdown or guidebook to tell them or show them how to be successful. Well I'm here to tell you that the only way to be successful is to work hard, and to set your priorities straight (sometimes that may mean sacrificing chow or free time, sometimes even sleep) stay focused, and if something seems impossible, do it anyways and challenge yourself. As I always say, chase the impossible and you will eventually witness the impossible! It is important though that no matter what, you do it with a smile and enjoy/love whatever it is that you are doing. Stay motivated Devil Dogs and keep moving forward, don't ever quit or give up! When things start to hurt just remember that the pain is only temporary, but the discipline and results last a lifetime."

Sgt Sarah A. Ortega, Marine Corps Air Station New River

"My secret would be never accepting my good as my best and always keeping in mind that I am my own worst critic, hardest competitor and greatest challenge. More important than that, I have the support of my spouse and an incredible group of people here at MCAS New River, who push me to my limits, encourage and challenge me to make myself better."

MSgt Julius G. Woodley from Marine Corps Base Quantico

"The secret to my success is never being afraid to be myself and taking advantage of every opportunity that presents itself. Furthermore, when there seems to be no opportunities available I just create my own."

SSgt T. R. Kirkland, Marine Corps Base Okinawa

"The key to my success is believing in the strength that God has given me. Believing that I can do all things through Jesus Christ who strengthens me. My dad taught us as long as we have faith, we would be able to accomplish anything."

Cpl Sabrina Nieves, Marine Corps Base Camp Pendleton

"There isn't really one true 'secret to success' for me. I do know that I work hard constantly because of my desire to be the best at whatever I do. I think it is important to remember however, that everyone falls short sometimes and that right there is my motivation to be better the next time around. I would have to say perseverance, dedication, hard work and most importantly staying humble is the perfect mixture of ingredients for success no matter anyone's background."
Do you have what it takes to be the next Ultimate HITT Athlete? Start training for next year's competition now! Click here to learn more about High Intensity Tactical Training and find a HITT facility near you.