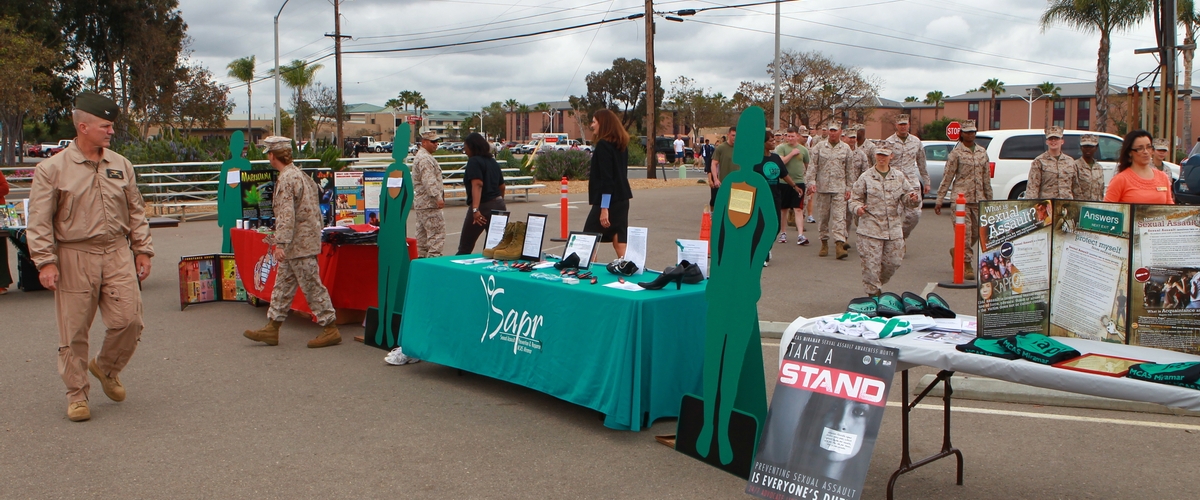 ---
April is nationally recognized as Sexual Assault Awareness and Prevention Month or SAAPM – an annual campaign to raise public awareness about sexual assault and educate communities on how to prevent sexual violence.
The Department of Defense will mark its 12th annual observance of SAAPM with the ongoing theme "Eliminate Sexual Assault: Know Your Part. Do Your Part." This theme emphasizes that every Service member has a role in upholding our core values, regardless of grade or job specialty.
Marine Corps events will focus on the individual roles each Marine has in preventing sexual assault. Sexual Assault Response Coordinators (SARCs) are responsible for planning local SAAPM events in their areas of responsibility.
In addition, Headquarters Marine Corps (HQMC) Sexual Assault Prevention and Response (SAPR) Branch is highlighting these SAAPM events to raise awareness of sexual assault:
April 1-April 14 – Participate in the Marine Corps SAAPM Poster Contest and view the winning design to be released on social media on April 27 (see PSAs). Contact your SARC for more details.
April 4, 12, 19, 27, 29 – Check out Public Service Announcements (PSAs) to be posted on official Marine Corps social media pages, including Facebook, Twitter, Instagram, YouTube, and Vine. Each PSA will feature a different message about sexual assault.
April 29 – Listen to the SAAPM Leadership Message by the Sergeant Major of the Marine Corps to be posted on social media (see PSAs).
On Marine Corps Base Quantico during SAAPM – Stop by a special display in the lobby of the Marsh Center, home to HQMC SAPR. You will find a variety of SAPR resources/services there, along with SAAPM materials.
Special thanks to SARCs in the fleet for organizing a variety of opportunities for Marines and Sailors to learn more about sexual assault prevention!
For more information on the Sexual Assault Prevention and Response Program, and to find SAAPM events in your area, click here.