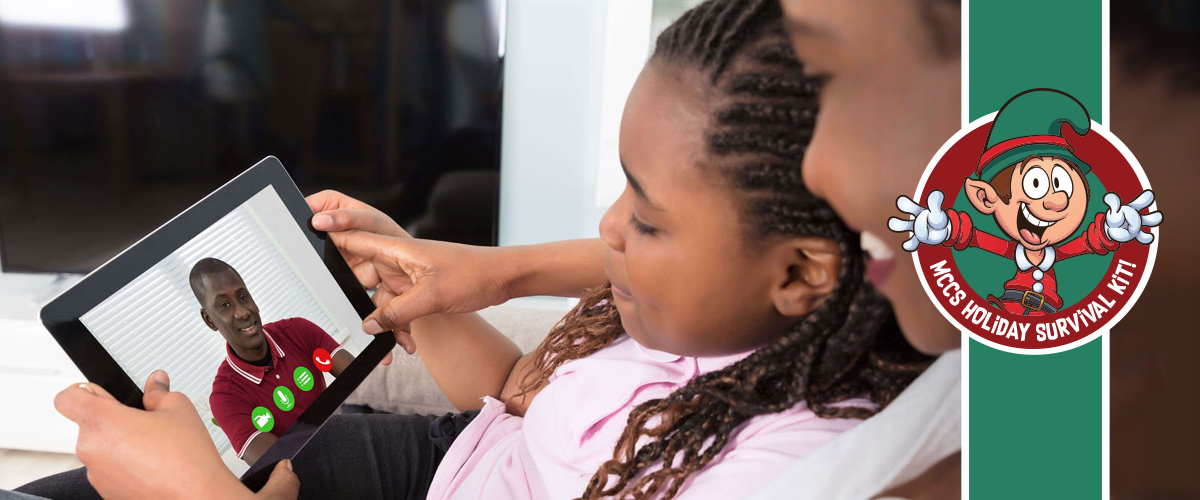 ---
Wherever you go, there are constant reminders of the holiday season. Holiday music plays, decorations are hung, and Santa is everywhere. These reminders often build anticipation and excitement for children, but for kids with a deployed parent, the holiday hustle and bustle can be painful. It can serve as a constant reminder that their loved one is not home.
Five ideas that may help you and your kids find joy in this holiday season.
Maintain traditions and consider new ones. It is important to keep the family traditions going. Predictability and consistency are reassuring for kids. However, some traditions are hard to maintain if a member of the family is absent. Involve your kids in the decision-making process if they are old enough. Ask them what they would like to do. Consider mixing it up and trying something new this holiday season.
Send a care package. Send gifts, pictures, treats, and holiday crafts. Creating a homemade gift is a fun way to for a child to feel connected to their service member. Ask the deployed person to make a holiday decoration and send it to you. You and your kids can incorporate it into your home.
Use video chat. Technology is able to keep people connected even though they are on opposite sides of the world. Use it to celebrate with your service member. Video chat may allow the deployed person to take part in some holiday activities such as opening presents, or reading a specific book together.
Have fun. Get out of the house, volunteer somewhere, do something your family enjoys. It is important to laugh, spend quality time together, and focus on the positive.
Visit family. This may be the perfect time to go back home. Surround your kids with people that love them and create happy memories this holiday season!
Services are available if you or your kids are struggling and need support. You can reach out to your local Family Advocacy Program and Community Counseling Program for more information on stress management, parenting, and coping skills. The DSTRESS Line is also available 24/7 at 1-877-476-7734 or dstressline.com if you are feeling overwhelmed and need to talk to someone familiar with Marine Corps culture.