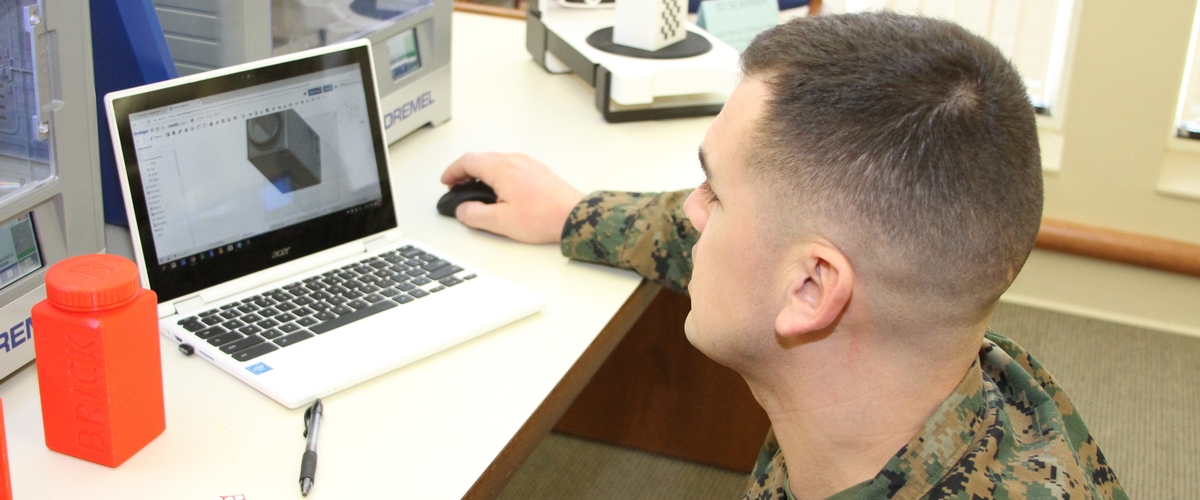 ---
Do you have what it takes to be an innovator? Marine Corps Capt. Justin Carrasco does and he dreams of the opportunity to test his new prototype soon.
Carrasco attends the Marine Corps University at Quantico Marine Corps Base in Virginia and is in the Expeditionary Warfare School (EWS), a 40-week resident school that provides career-level, professional military education and training to company grade Marine officers. Carrasco was selected for a Research Fellowship Project that involved designing, developing, and 3D printing a new shape for disposable water bottles.
The new shape is designed to minimize the logistical footprint of packaged water bottles while in transport during convoys. "My overall project consists of designing, developing, and printing a 3D water bottle design in .5L and 1L capacities that maximizes logistical functionality while maintaining usability" said Carrasco.
Using the Marine Corps Base Quantico Family Library's Makerspace equipment, Carrasco worked with a 3D printer to bring his concept to life. Carrasco said this type of printing refers to a process used to synthesize a three-dimensional (3D) object in which layers of material are formed under computer control to create an object.
The new design shows a 40 percent reduction in footprint when compared to standard water bottles of the same volume. Carrasco's idea originated from his experience as a Motor Transport Platoon Commander in Afghanistan. "I was responsible for planning and executing logistics convoys between Forward Operating Bases and Patrol Bases for force sustainment," said Carrasco.
The most common load for vehicles in Carrasco's platoon were palletized water bottles. The water pallets were fairly unstable due to the round shape of the bottles that make up the packages and pallet. This limited Carrasco's ability to stack pallets and could often result in the pallets breaking during off road travel. "The new water bottle I am designing aims to improve the structural integrity of the water bottle as a system of the package and pallet" said Carrasco. "This should allow the pallets to double stack and improve their off road survivability."
When Carrasco's plastic water bottles are packaged and built into pallets they utilize the majority of the space within the pallet to contain water. Additionally it provides good surface area to make contact with other bottles and, when packaged, provides a more structurally sound case. While Carrasco has been focused on reducing the logistical footprint of packaged water, he sees the potential to use his technology in other military supply applications.
The Makerspace equipment is just one of many services offered by the Quantico Base Library. The MCCS Library Program assembles, organizes, and preserves unbiased collections of library materials (print and non-print) specifically attuned to the interests and requirements of Marine Corps personnel and to the missions and tasks of commands.
Access to electronic library resources are available wherever Marines and families are stationed through the Virtual Library Portal at: http://mccs.ent.sirsi.net/.
Remotely stationed Marines and families can contact the Library Program at usmclibraries@usmc.mil to obtain virtual access.
To learn more, visit the library at your installation.