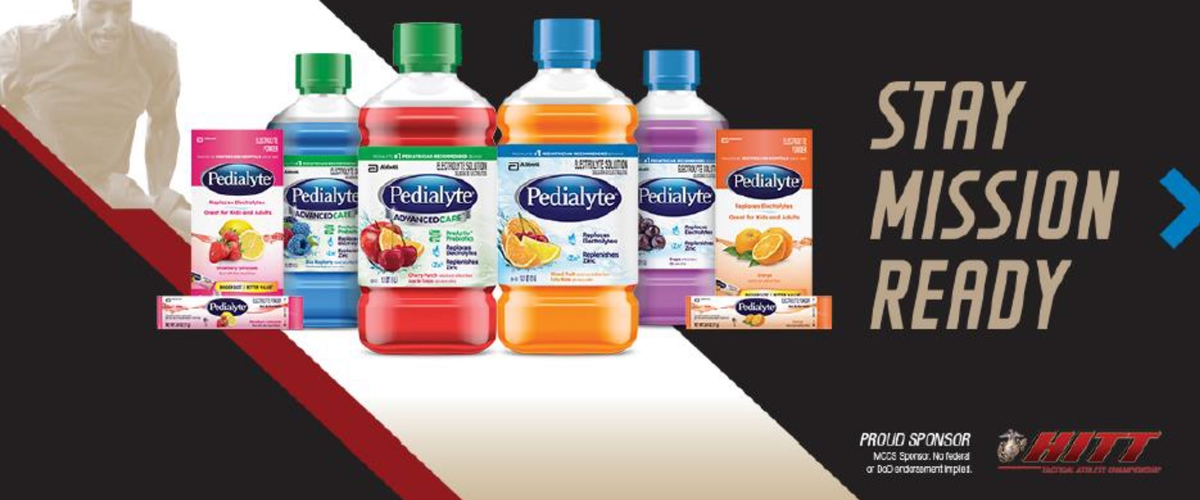 ---
Pedialyte® is a proud sponsor of the 2017 High Intensity Tactical Training (HITT) Championship to be held at MCB Camp Pendleton from 28-31 August. Pedialyte will support the nutrition needs of Marines competing in Championships and will provide free samples to event attendees.
Pedialyte helps prevent mild to moderate dehydration due to intense exercise, heat exhaustion, travel, vomiting, or diarrhea. With an optimal balance of sugar and sodium, Pedialyte is designed to quickly replenish electrolytes, and it can be consumed before, during and after strenuous physical activities like the HITT program.
Proper nutrition is the foundation for good health. That's why Abbott, Pedialyte's parent company, is dedicated to developing science-based nutrition products for people of all ages. From helping babies and children grow, keeping adult bodies strong and active, and supporting the nutrition needs of people with chronic illness. Good nutrition, every stage of life can be a healthy one.
Millions of people around the world count on Abbott's leading brands–like Similac®, PediaSure®, Pedialyte®, Ensure®, Glucerna®, EAS®, and ZonePerfect®–to help get the nutrition they need to live their healthiest lives.
Eric Christensen, Global Military Sales Manager for Abbott Nutrition states, "Abott has a long history of supporting our active military troops and retirees, and we look forward to the continued privilege of supporting our brave men and women in the military for years to come."
Visit Abbott.com for more information on Pedialyte and our entire product portfolio.
MCCS Sponsor. No Federal or DoD endorsement implied.