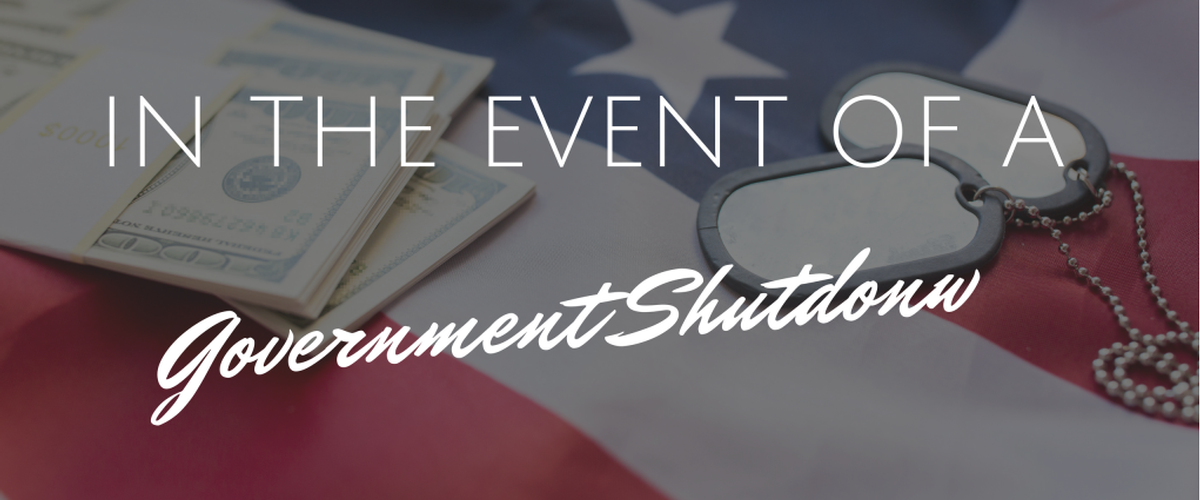 ---
In the event of a government shutdown many services will be affected, but there are a few that remain available to you.
TRICARE:
In response to the ongoing possibilities of a government shutdown, the Defense Health Agency (DHA) has authorized its TRICARE contractors to continue delivering health care to the 9.4 million beneficiaries of TRICARE.
TRICARE beneficiaries seeking medical care from private providers should feel no significant effects. Care at military hospitals and clinics would remain largely unaffected. The TRICARE website includes current information about the impact of the shutdown on TRICARE health plans and military
hospitals and clinics.
MILITARY ONESOURCE:
Military OneSource will remain fully operational. Call specialists are available at 800.342.9647. OCONUS calling options can be accessed at the link on the homepage.
Military Family Life Consultants (MFLC) will also remain operational, although they may be affected by limited access to base facilities. To connect with a counselor, call MilitaryOne Source at 800.342.9647
Military Relief Societies:
If you're concerned about your financial situation during the shutdown, there are financial institutions that may be able to assist with short-term financial needs.
The Air Force Aid Society (AFAS), Army Emergency Relief (AER), Coast Guard Mutual Assistance (CGMA), and Navy-Marine Corps Relief Society (NMCRS), provide financial counseling and other assistance, and continue to operate when the government shuts down.
If you don't have an aid society, contact the Red Cross, or call 866.563.1376.
Several banking institutions, such as USAA, Navy Federal Credit Union, and Marine Federal Credit Union, have been known to advance military pay to their customers during government shutdowns. Contact your bank to inquire about their policies for situations like these.
Information & Referral Specialists:
Local information and referral specialists will be available to make referrals to community services that can provide assistance. Call 2.1.1 or go to www.211.org to find the location nearest to you.
Overseas and Remote Commissaries:
Check www.commissaries.com to determine the status of your local store.
During a shutdown some non-appropriated fund services may continue to operate. Check with your local installation's website to determine which services will remain open in your area.
Don't just wait for the government shutdown to happen. Plan ahead and minimize its impact on your day-to-day routine. Get connected to your Marine & Family Programs Information, Referral, and Relocation, and Personal Financial Management, before the shutdown, make a plan and be ready!
To see contingency plans for federal government agencies visit: https://www.whitehouse.gov/omb/agency-contingency-plans/