Basic Allowance for Housing Initiative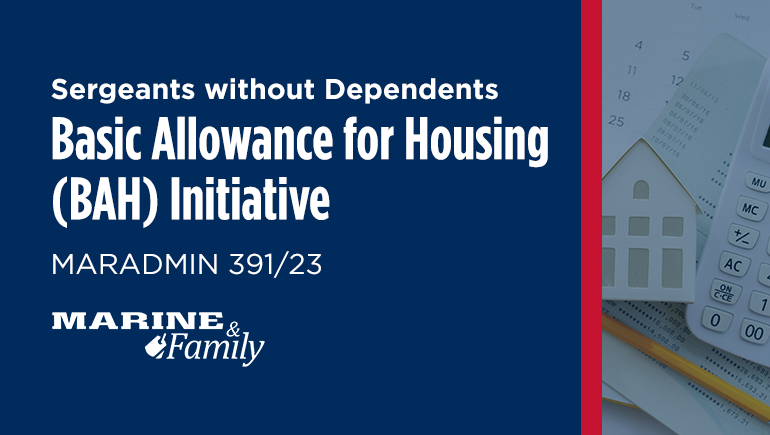 Date
Thursday, February 1, 2024
Address
Marine & Family Programs – Headquarters
BLDG 13150
Camp Pendleton, CA
Sergeant without Dependents BAH Initiative: MARADMIN 391/23
MARADMIN 391/23: Sergeant without Dependents Basic Allowance for Housing Initiative.
The Personal Financial Management Program staff will be offering in-person and virtual training starting Aug 14-Oct 30 in the Marine & Family Programs Headquarters BLDG 13150, Classroom 3.
To provide quality virtual training, we are asking those aboard Camp Pendleton to attend training in person and those from other installations to contact their Personal Financial Management Program for assistance. Those logging in virtually are advised to use a non-government computer.
As a reminder, the signed certificates provided by us only indicate the individual who attended the training. Per the MARADMIN, the official entry of all training codes will be handled by the respective commands.
In addition, we are also supporting unit training requests. Please email us directly if you would like to schedule unit training.

VIRTUAL OPTION
GoToMeeting
Password: moneymoney
Sponsored by