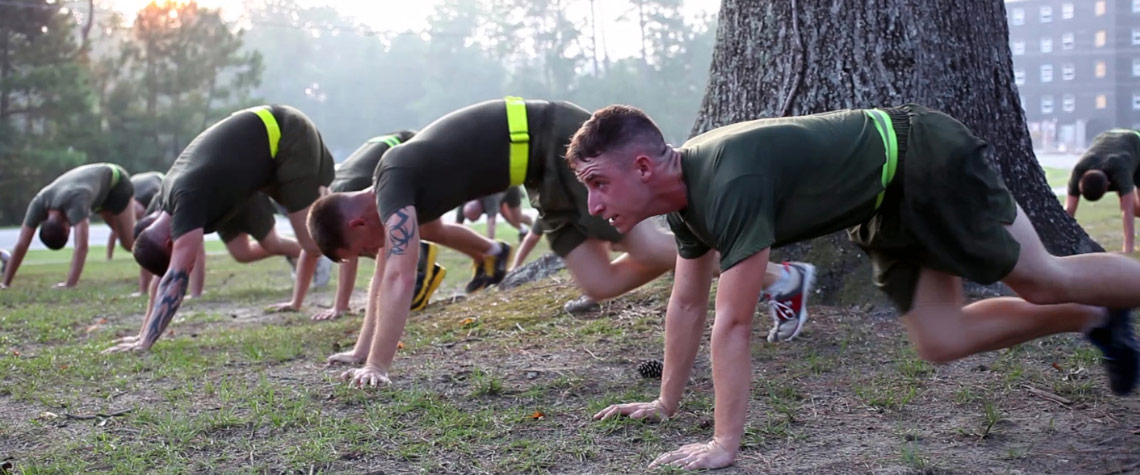 ---
Whether you are a United States Marine or simply want to train like one, High Intensity Tactical Training (HITT) will get you in combat ready shape. HITT is a strength and conditioning program that focuses on improving speed, power, strength and endurance while reducing the likelihood of injury. HITT consists of three training levels (Athlete, Combat, and Warrior) which allow you to increase the intensity of your workout as you improve your fitness and become more comfortable with the program.
Each HITT workout focuses on the following core fitness areas:
Active Dynamic Warm up: To minimize the risk of injury all workouts should begin with a warm-up. A proper warm-up includes gradual movements and allows the body to reach training intensity without under or over working the muscles.
Core Stability & Flexibility: Core stability training targets muscles deep inside the abdomen that support the spine and all movement of the body. A strong core improves balance and stability and allows you to perform arm and leg exercises more effectively. Physical performance is enhanced when a safe and effective flexibility training program is a part of a Marine's workout as a flexible joint can move through a greater range of motion and reduces the risk of injury. Static stretching movements also help reduce muscle soreness after exercise.
Speed, Agility & Endurance: Progressive speed training has been shown to increase agility as well as jump height, jump power, jump length, squat strength, and sprint speed. Endurance training leads to increased strength and improved stamina.
Strength & Power: Strength and power training serves to increase explosive power, functional strength and muscular endurance for Marines. The exercises recommended in the HITT program enable muscles to reach maximum strength in a short time.
So what are you waiting for? Start your HITT program today. Contact HITT, or to find a HITT Center, HITT Locker or "Train the Trainer" course near you, click here.