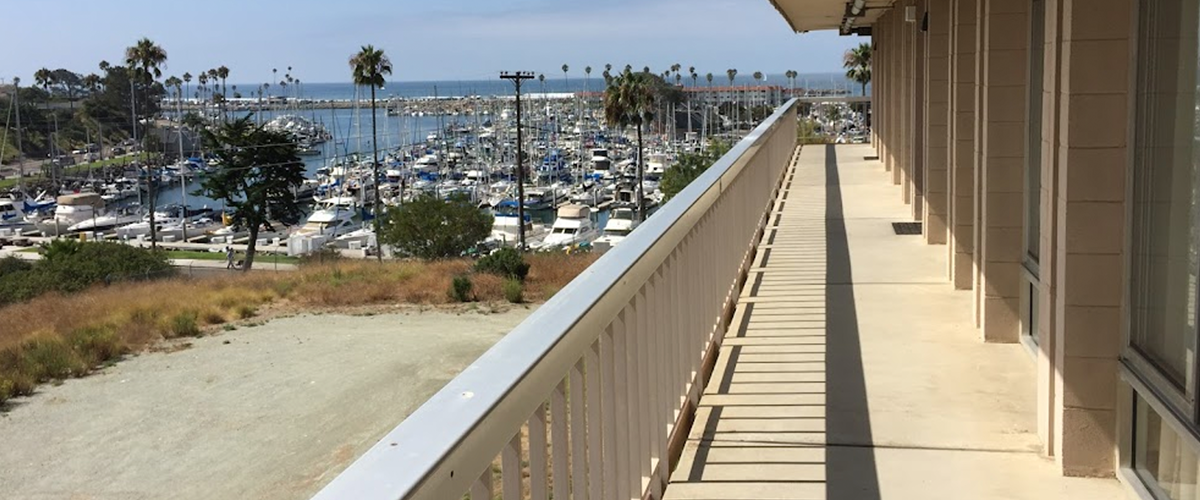 Harborsite Inn offers convenient and welcoming room accommodations located within one mile of Camp Pendleton's main gate. The facility features ocean views and is within walking distance of exchange facilities, the marina, and the beach.
Pricing
Single (24 rooms) – $94/night
1 bedroom
Private bath
Single w/ Shared Common Area (132 rooms) – $89/night
1 bedroom
Private bath
Shared living room
Suite (12 rooms) – $99/night
1 Bedroom
Private bath
Living room
Two-burner stovetop with utensils
Additional fee of $10.00 for each extra guest
Amenities
Internet access
In-room safe
Coffeemaker w/ free coffee
Health & beauty aids
Refrigerator
Microwave
Premium Cable
Full size beds
TV
Lodge Amenities
Business center w/ computer and printer
Laundry facility
BBQ Grill
Certificates of non-availability (CNAs) will be issued to those on TAD/TDY. CNAs are computer generated in the facilities reservation system and cannot be backdated. Personnel are responsible for obtaining CNAs for reimbursement purposes.
Reservations must be cancelled 48 hours prior to arrival date.
Orders must be verified at the time of check-in to receive rate.
Mixed gender and/or officer/enlisted assignments to the Shared Common Area Rooms is not authorized.
General
Personnel (Military or Government employee) on official TAD/TDY orders may make reservation up to a year in advance. Personnel traveling on PCS reservations may make reservations up to six months in advance. Leisure or "Space A" may make reservations up to one month in advance.
Leisure or "Space A" reservations can be booked up to one month in advance.
Eligibility
Personnel arriving at Camp Pendleton on PCS orders may stay at Harborsite Inn, if both of the Inns of the Corps lodging facilities are full. Personnel traveling on PCS orders will need to obtain a certificate of non-availability from the Inns of the Corps locations. PCS personnel with CNA's may make a reservation with Harborsite Inn up to six months in advance.
Civilians, who are not dependents, are not authorized to stay at Harborsite Inn without a sponsor being present.
Payment
First night's deposit is due at check-in. Payment will be collected every 1st and 15th or upon check-out.
Visitor Policy
Visitors are defined as persons invited into a room or onto the property of the Transient Quarter Facilities, by a registered occupant/guest. Registered occupants/guests may have visitors in their rooms provided that these visitors do not interfere with good order, discipline, or inconvenience other occupants.
Visitors are permitted during the following hours: Daily from 8am-11pm
Visitors remaining after 11pm must also be registered at the front desk by the registered guest/occupant. An additional $5.00 per person, per night, will be added for overnight visitors. Overnight visitors must be over the age of eighteen.
All visitors will be reported to the front desk, by billeting staff when observed. Billeting staff is encouraged and permitted to ask for identification of individuals in Transient Quarter Facilities.
Visitors under the age of eighteen are permitted during visitor hours only and must be accompanied by legal guardian and registered guest/occupant.
Registered guests/occupants are responsible for the conduct of their visitors and for any damages they may incur.
Keys will not be issued to visitors. Visitors in possession of a room key and not accompanied by a registered guest/occupant, will be escorted off premises.
Visitors must be accompanied by a registered guest/occupant at all times.
Check-In / Checkout
Normal check-in time is after 3pm. If you know ahead of time that you'll have a late arrival, give us a courtesy call so we can hold your room.
Facilities/Amenities/Pets
Pets are not allowed. Service animals are welcome.
No. Smoking is not allowed in any of our facilities. Designated smoking areas are located outside the buildings.
Reservation line is open every day from 8am - 3:30pm.