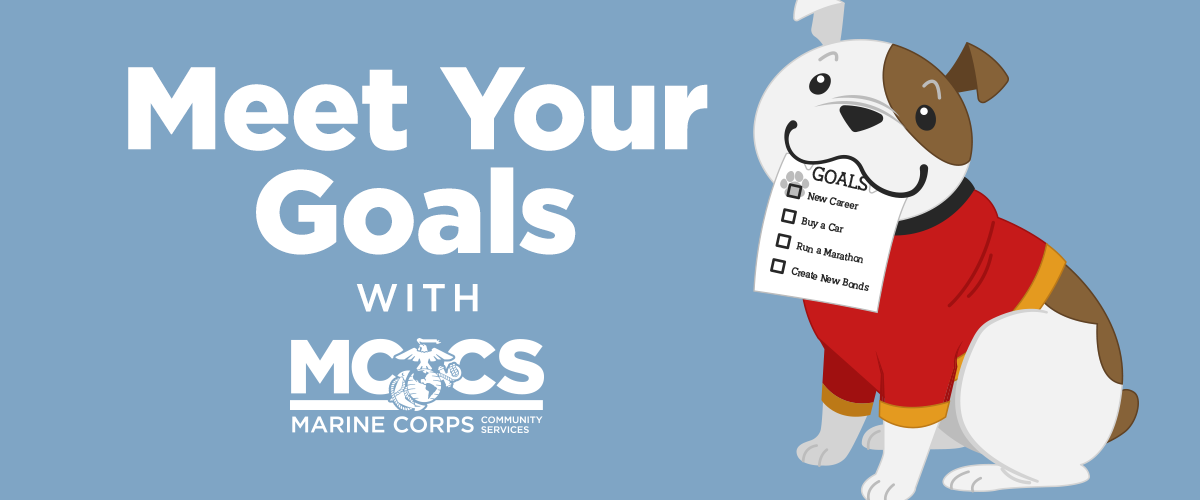 Join Chesty in achieving his New Year's goals! MCCS has multiple resources to help you work towards your goals for the new year. Whether you are looking for a new job, want to buy a car, strengthen or create new bonds with friends and family, or just looking to be financially, mentally, or physically fit, MCCS is here to help.
Chesty has been working with our financial management team to budget and save for a new car!
The program he has been using assists Marines and their families in achieving and sustaining personal financial readiness by providing personal financial education, training, counseling, and financial information and referral. A solid understanding of personal finances will build confidence in facing financial challenges, responsibilities, and mission readiness.
Once Chesty has his new car, he is going to keep up the maintenance by going to the Auto Skills Center & Retail Store. He can't wait to buy new car seat covers and air fresheners at the MCX!
He's also already planned to store his new car on Camp Pendleton for when he is vacationing!
Auto Skills Center & Retail Store
BLDG 13191
760-725-5963
RV/Vehicle Storage
BLDG 17013
760-725-5296
---
For current classes see upcoming events below.
For one-on-one financial counseling, contact:
Personal Financial Management Program
BLDG 13150
760-829-0245
Chesty has joined Semper Fit in taking fitness and health education programs, to help prepare for a marathon. He has been working out at our Semper fit gyms, taking Group X classes, getting massages, training for the Heartbreak Ridge Run, and attending Nutrition 101. He has also been taking advantage of the health food & gym equipment sales at the MCX.
For current classes and sales see upcoming events below.
Chesty is reaping the benefits of being an MCCS employee. He is enjoying the short commute, 401(K) Savings Plan, Group Retirement plan, generous Leave (Sick & Vacation), and much more. Chesty has also informed his military friends and family about the Spouse Preference Program.
He is already looking for a promotion and is taking our resume and interview workshops, attending hiring events, and using the Career Services Center.
For current classes or events see upcoming events below.
Apply to MCCS and read about all the benefits.
Career Service Center
(760) 725-4199